VU DUC THANH'S ART GALLERY
Exhibition at Florida Central State University
From June 1, 1999 to July 1, 1999
---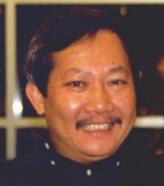 Vu Duc Thanh
2746 Myakka Dr.
Orlando, Fla 32839
(407) 823-1317
email: Vdt@mpinet.net

INTRODUCTION by Rose M. Zettler

VU DUC THANH Thanh Duc Vu creates artwork that is as complex as his early life. Born in South Vietnam where he attended the School of Decoration and Fine Arts in Gia Dinh in 1969 and the National Fine Arts College of Saigon in 1974. You might ask why is this significant? Thanh has survived the rigors of a war torn childhood. He has been a witness to many horrors that most of us only hear about through the news reported at that time. War is the backdrop of his life.
Today he expresses the duality of life on canvas in both a traditional application of oil paints or computer art. Thanh is a well-established Graphic Artist utilizing his combined skills for many works that include book covers for Authors in the Vietnamese- American community throughout the United States. There exists within the artist his own polarity between canvas verses
computer.
Art is his translating medium, his historical perspective. His artwork is an effective bridge communicating to the Vietnamese Americans and to Americans his story of oppression. His painterly autobiography, expresses the painful destruction of his country, South from North, Father from Son, Freedom from Communism. A political refugee in 1975 he immigrated to America, which brought him relative freedom. Now he is prolific. He once expressed the concern that Technology, mans own creation, could become the new enemy and how we may soon destroy ourselves. His passion is portrayed in strong vibrant colors, hot with emotions and imprisoned memories not soon to pass. "When freedom is taken away," Thanh said, "I feel numb, afraid of everything, worthless, of no value, and disappointed. Anger is the color Red." He hopes that mankind will protect its aspirations and hopes. His interpretations of life are in his own particularly unique style.
Rose M. Zettler/Artist


VU DUC THANH'S PAINTINGS

| | |
| --- | --- |
| BLACK APRIL (arylic) | INFINITY SQUARE (mixed media) |
| UPRISING (oil on canvas) | SUMMER OF 72 (oil on canvas) |
| UNTITLE 1 (acrylic) | UNTITLE 2 (acrylic) |
| UNTITLE 3 (acrylic) | DAY DREAM (water color) |